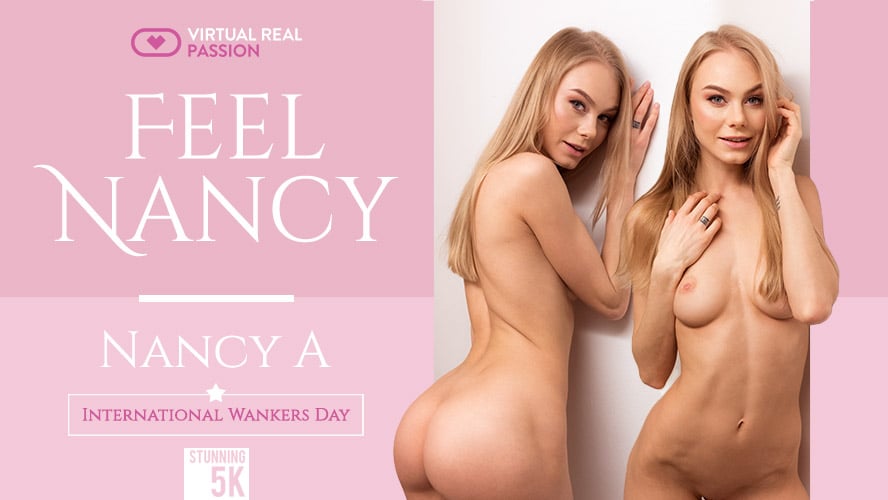 Bath VR masturbation of Nancy A
Bath VR masturbation session with blonde beauty Nancy A.
Everybody does it but nobody confesses it. We are not talking about your searches on VirtualRealPorn. But what happens next: your daily masturbation. Today isn't an ordinary day when you grab your oculusgo and find a comfy place to watch sensual blonde Nancy A. But the day this bombshell will give you an invitation to enjoy a new adventure in VR Porn.
It only takes a hot bath and warm lighting like her vagina for Nancy A to turn a soft fingering into a masturbation as hot as if she was celebrating International Masturbation Day.
Luckily for you, it is!
No matter the occasion, whenever you have your boyfriend to get some inspiration, you'll have a wet adventure in Virtual Reality sex.
Happy International Wankers Day! Remember to fap and cum in joy!
Bath VR masturbation session with blonde beauty Nancy A
So we are excited to create new bath VR masturbation content for you: many more videos, more beautiful models, more situations… everything to satisfy all your sexual fantasies and make them real in your Oculus Rift, Samsung Gear VR, PSVR, Mi VR, Daydream VR, HTC Vive or any other VR smartphone headset.
Because we want to keep creating more bath VR masturbation videos for you. Then select quarter or annual option in the registry! Sign up NOW and ENJOY our awesome bath VR masturbation videos! REAL SEX in your Virtual Reality Headset! (Oculus Go, Oculus DK1, Oculus DK2, Samsung Gear VR, Google Cardboard, HTC Vive, PSVR…) VirtualRealPassion's "Feel Nancy" Click here!
Finally if you haven't tried the rest of our VR Porn network. Come and experience an amazing time with our VR Porn websites: VirtualRealPorn, VirtualRealJapan, VirtualRealTrans, VirtualRealAmateur, VirtualRealGay and our VR XXX game: VRLove